Finally, You Can Solve Your Family's Health Problems with Safe, Natural Remedies and Turn Sick Days into Vacations…
This is for you if you are:
Fed up with the drowsy, tired, even wired, side effects of medications
Maxed out from spending too much money on doctor visits & prescriptions
Frustrated with just suppressing your symptoms & never really healing your problem
Losing all your vacation time to sick days
Tired of feeling tired, overwhelmed, stressed and burnt-out
Caught up in endless rounds of antibiotics
Wanting a solution to everyday complaints you feel hopelessly resigned to just live with
Can you imagine, knowing exactly what homeopathic remedy to use to stop a cold when it starts, dissolve back pain, end allergies, sleep peacefully, heal a cut and boost your immune system?

First, I'll teach you why Homeopathy:
Works naturally and has no side effects
Is inexpensive, sold over-the-counter, easy to find
The safest medicine during pregnancy, birth and beyond
Permanently heals & re-balances the underlying cause of symptoms
Is used along with medications without causing contra-indications
This time tested system:
Stops & resolves symptoms before they become chronic
Actually boosts your immune system and triples your energy
Banishes anxiety & depression, and bolsters your body's defenses
Now, in less time than it takes to call in sick and visit the doctor, you can learn how to use Homeopathy and have your healthiest year ever.
_
Get Started Now with


Homeopathy Level 1 Seminar on DVD
Thousands of people just like you, looking for purer, simpler, safer medicines that would actually heal their symptoms and NOT just suppress them, found their solution.
In just 3 hours, they went from knowing absolutely nothing about Homeopathy, to making successful remedy choices for so many of their family's healthcare needs, including their pets!.
Now when their child comes home with conjunctivitis, they don't have to miss 3 days of work, waiting for eye drops to work.
And when they start to crumble with body aches, chills, fever, sore throat, they nip it in the bud before it becomes full blown influenza.
They know how to prevent a virus from being passed around the whole family.
They have remedies at their fingertips for life's little emergencies of bumps, bruises, scrapes— even fractures and can handle sunburn, bee stings, puncture wounds, strains & sprains, preparing for dental work or surgery.
Life is Good With Homeopathy…it stimulates your vital life force and after using Homeopathy for a while, your immune system becomes stronger and you are NOT getting sick nearly as often.
| | |
| --- | --- |
| Homeopathy Level 1 covers all the basics, and in just 3 hours you will know everything you need to know to use Homeopathy successfully… | |
Learn how Homeopathy works and become comfortable using it
How the remedies are made; why they are absolutely safe and non-toxic
What potency & dosage to use for maximum success
Learn more than 47 most commonly used remedies with over 150 different uses
Here is just a partial list of symptoms we'll cover!
Abcess & Boils
Acne
Allergic Reactions
Allergies
Anemia
Animal & Insect Bites
Anxiety
Arthritis
Asthma
Back Pain
Bedwetting
Bronchitis
Bruising
Burns
Carpal Tunnel Syndrome
Chicken Pox & Measles
Cold Sores
Colds
Colic
Concussion
Conjunctivitis
Constipation
Corneal Abrasions

Coughs
Cramps
Cravings
Cuts & Wounds
Depression
Earaches
Eczema & Psoriasis
Exhaustion
Fatigue
Fears & Phobias
Fevers
Flu
Food Poisoning
Fractures
Grief
Growing Pains
Hangovers
Headaches
Hemorrhages
Hemorrhoids
Hives
Hormonal Imbalances
Hot Flashes

Indigestion
Infections
Influenza
Injuries
Panic Attacks
PMS
Pneumonia
Poison Ivy & Oak
Puncture Wounds
Restless Leg Syndrome
Rheumatism
Sciatica Pain
Shin Splints
Insomnia
Irritability
Jellyfish & Bee Stings
Joint Pain
Laryngitis
Menstrual Cramps
Migraines
Motion Sickness
Muscle Spasms
Nausea

Nose Bleeds
Shingles
Shock
Skin Issues
Sleeplessness
Sore Throats
Splinters
Stage Fright
Stomach Disorders
Strains/Sprains
Styes
Sunburn
Surgery & Dental Work
Swollen Glands
Teeth Grinding
Teething
Tendonitis
TMJ
Tonsilitis
Toothaches
Water Retention
_
Knowledge is Power…
No other course is like this one. This is your comprehensive, quick-study lesson to handling home care. It's so much more than a teaser introduction, yet certainly NOT an expensive and extensive commitment to becoming a practicing homeopath.
For 20 years, people had to travel to San Diego to take the Homeopathy Level 1 Seminar, a course specifically designed to empower you with the skills you want to use homeopathy successfully…
Now it's available on DVD so You Can Learn How to Soar Your Health with Homeopathy at Your Own Pace, In the Comfort of Your Own Home…
This Comprehensive Seminar teaches you everything you need to know so you feel confident, safe, and KNOWLEDGEABLE; ready to choose the perfect remedies…
We've captured our live seminar in movie-quality film, so it's just like being in the conference room, without having to travel
Easy-to-use chapters let you listen at your own pace
_
Your Homeopathy Level 1 DVD Set Includes
Homeopathy Level 1 Notebook
Get out your highlighter and follow along…
Our expertly designed notebook covering all the most commonly used remedies & their indications—a rich resource for years to come
Your coil notebook is compact for easy travel: your reminder of all the remedies for typical travel ailments—prevent food poisoning, jet lag, sleeplessness & colds
Additional notebooks available so you can share your DVD set with all your friends
_
Special Bonus—Access to FREE Q&A Teleconferences
You'll receive monthly invitations to join our dynamic community of students on informative teleconferences that answer all your questions and assure your success
_
"The information is invaluable"

"I've had the privilege to participate in both the Homeopathy and Bach Flowers certification classes with Shelley. Her passion and commitment to conveying this knowledge to her students is extraordinary and compelling. The information is invaluable for anyone who wants to enhance their lives and promote healing. Both areas of remedies provide amazing restoration of balance and harmony in all areas including physical, mental and emotional issues. My own experiences as a healer have been nothing short of miraculous."
_
_
"…the best investment that I could make for my family's health…"

"Taking Homeopathy classes from Learn Homeopathy Now was the best investment that I could make for my family's health. I used Homeopathic remedies during my pregnancy and I had a delivery without any anesthesia with the help of remedies! I treated my husband for his fear of flying. Also, my daughter has been treated by Homeopathic remedies since her birth and she is a happy and healthy 9 months old now. Many thanks to Shelley and Willow for providing me with this wonderful power to take care of my family."
_
_
"I was able to successfully treat my family and myself"

"My personal pursuit of alternative healing led me to Shelley McQuerter and Learn Homeopathy Now. When I signed up for the introductory courses in Homeopathy, I had no idea how these classes would change my life. After just a few hours of instruction, I was able to successfully treat my family and myself for everything from headaches to bee stings. I was so excited to take care of those I loved without chemicals or side effects, that I went on to receive an advanced certificate in Homeopathy. "
_
_
"I have a waiting list practic"

"Since utilizing Homeopathy in practice, I have a waiting list practice. Patients travel from great distances because of the efficacy and success rate I achieve by combining homeopathy with other healing modalities."
_
_
"Something I would wish for every mother to have"

"When my oldest son was 2 years old, he had chronic ear infections with endless rounds of antibiotics and no healing in sight. As a new mother, tired and frustrated with a feeling that there had to be SOMETHING out there that was better than this, I decided to take the Level 1 and 2 Homeopathy classes and give it a go. I had no idea how life impacting this would be for me and my growing family! The ear infections cleared up completely and never returned again.
Because of homeopathy, I have been able to successfully treat my family's ailments without ever having to turn to doctor visits or pharmaceutical drugs that only create a band-aid effect. Knowing that I can help my children, as well as myself, my husband, and my loved ones, in a healthy and non-invasive way using the homeopathic remedies is something I would wish for every mother to have!
_
_
"I was impressed when a homeopathic remedy she suggested, worked faster and more effectively than pain medication"

"I was curious when I took my first seminar, and immediately impressed when a homeopathic remedy suggested for me, worked faster and more effectively than any pain medication I had ever taken. I was working as a nurse at that time, and now I am a practicing nutritionist and homeopath. Shelley's classes have prepared me to handle most anything that comes my way."
_
_
"Shelley is making homeopathy a household name for thousands of students"
"Shelley has been an amazing mentor and teacher. She generously shares her knowledge. It is a skill that I am privileged to share with family, friends and clients. Thank you, Shelley, for providing this material."
"It's immediately clear how passionate Shelley is in her work and teachings; she delivers the classes in such an interesting and easy-to-absorb way. The notebooks from the classes are superb and wonderful to have for continuous reference. I cannot recommend Learn Homeopathy Now and discovering homeopathy enough!"
"Shelley's passion and commitment to conveying her knowledge to her students is extraordinary and compelling."
_
Homeopathy Level 1 on DVD
3 Disc Set with Notebook, 3 Hour Seminar
Our high quality DVDs let you enjoy a front row seat in our conference room from the comfort of your own home. Learn at your own pace with easy-to-use chapters and we will meet you on our (free & included) Q&A Teleconference Calls!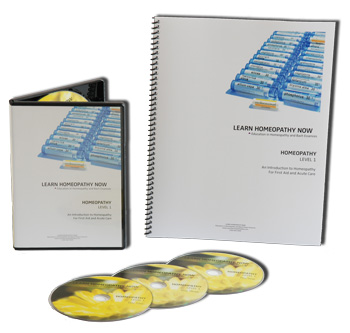 Full Retail Value
$249.00
Website Sale this Month Only
$149.00
Biz for World Changers Special Price: $99
Click Add to Cart
At checkout, use the Coupon Code 

BIZFORWORLDCHANGERS

Your final total will reflect your savings and your Homeopathy Level 1 DVD Set with Notebook will be sh right away!
_
| | |
| --- | --- |
| | You're protected by my Homeopathy Level 1 Seminar, "I Love This Training" Guarantee |
I'm confident that when you take this Homeopathy Level 1 course, you're going to be thrilled. I also know that within no time at all, you will be making successful remedy choice for yourself and all your loved ones.
Just to back that up, I'll give you a full 30 days to work with this incredible DVD Set & Notebook, and REALLY decide if it's for you. If you decide it's not for you … just let me know, return the product in resalable condition and get a full refund. 100%! No reason needed.
_
| | |
| --- | --- |
| | Shelley McQuerter, owner and director of Learn Homeopathy Now, has inspired countless parents and healing professionals with her passion for Homeopathy. Shelley is a gifted educator. With the command of a woman who knows and loves her topic, she blends anecdotal storytelling, sharp witticism and intuitive know-how into thoroughly entertaining and instructive workshops. She strips away the mystique of the esoteric & scientific Homeopathic tenets, and creates a lasting impression that empowers you with the skills you need to use homeopathy effectively. Shelley's vibrant, authentic presence embodies the power homeopathy promises. |